China s export soaring rare earth is no longer rare
Time:2017-09-20
Rare earth is no longer so rare, thanks to China's rare earth policy. According to official data, China's rare earth exports in July doubled year on year, the highest level of more than four years. China last year canceled the implementation of up to 15 years of rare earth export control, in April this year and the abolition of rare earth export tariffs, followed by rare earth exports increased.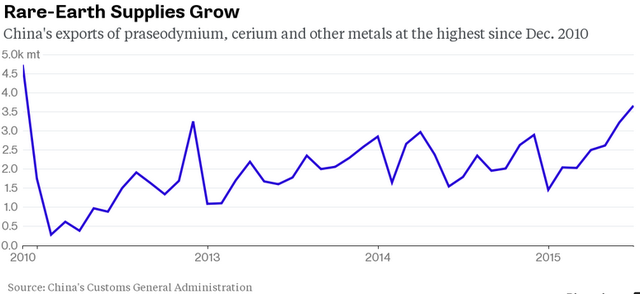 Rare earth supply growth.
China 's General Administration of Customs data: China' s rare earth exports in July 3658 tons. China's rare earth production accounts for more than 80% of global production.
"This trend has been brewing for some time," CRT Capital Group analyst Kevin - Stark said. "This is because China has terminated its export quota policy, and if China's demand for rare earths is reduced, it is the case that rare earth will leave the country through exports, which is the result of a variety of factors."
Like other commodities, rare earth prices have been declining. According to Stark, rare earth prices will further deteriorate. China is the largest country of raw materials, and the country's economy is experiencing a quarter of a century of slow growth.
Columnist MYRA P. SAEFONG wrote in MarketWatch that China's dominance in the rare earth market has been consolidated and that opportunities for overseas acquisitions are ripe. The role of China's resource tax reform sooner or later to be played, the supply and demand fundamentals have undergone a favorable change - these three points is likely to mean that rare earth and rare earth stock prices have come to dawn, a few years the bear market is about to end.
"In 2009, China reduced the export of rare earths, pushing prices higher, giving birth to a stock bubble in rare earth mining companies," he said.
Rare earth prices have been a major impact on some enterprises. US rare earth producer Molycorp Inc. filed a cut-off on August, due to the company's depletion of cash.
Handuvog believes that China wants to continue to maintain its "rare earth monopoly" status, so they lower prices, forcing competitors to withdraw. However, "with competitors continue to close or bankruptcy, rare earth prices rise again is completely conceivable."