Samarium Oxide
Time:2017-09-20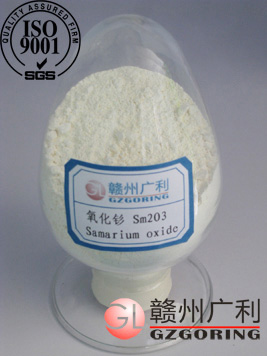 Product Name:
Samarium oxide
Use:
1.Samarium oxide for the production of high coercivity, high magnetic energy products of samarium cobalt alloy,
2.Permanent magnetic materials, memory components, ceramic capacitors, catalysts,
3.Atomic reactor structure materials, screen materials, control materials ... ...
Packaging Details: Inner packing with double sealed film bag into 50kg/drum and woven bag.Or as customized.
Product Specifications:
Brand: GZGORING
Molecular formula: Sm2O3
CAS No.: 12060-58-1
Appearance: light yellow solid powder, insoluble in water, soluble in acid. Easy to absorb moisture and carbon dioxide in the air.
Total amount of rare earth: ≥99%
Purity: 99% to 99.9999%