Scandium Metal
Time:2017-09-20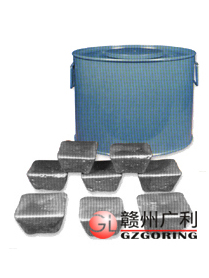 Product Name:
Scandium Metal
Description:
Brand: GZGORING
Appearance: Silver gray metal ingots, mechanical polishing, can be cut according to customer requirements.
Total amount of rare earth: 99.5%
Use:
Scandium Metal is mainly used in high-tech alloy materials.
Packing:
5kg or 10kg each iron drum lined with double layers of plastic bags, filled with argon protection. It can also be packed according to requirements of customers.
Product Specifications:
产品牌号

Codes

化学成分 %Chemical compositions

稀土总量

TRE

金属钪相对纯度

SC/TRE

杂质含量 不大于 Impurities Max
稀土杂质
非稀土杂质 Non-RE
不小于 Min
Fe
Mg
Mn
Si
Ni
C
Sc-3NA
99.5
99.9
0.1
0.058
0.003
0.001
0.005
0.005
0.02
Sc-3NB
0.04
Sc-4NA
99.5
99.99
0.01
0.03
0.0031
0.001
0.0025
0.002
0.01
Sc-4NB
0.02
(Above specifications, for reference only. Specific indicators according to the analysis of the subject)